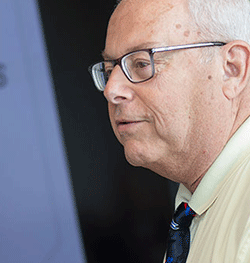 Gary Deter, the owner of Architectural Door Consultants, in Laguna Miguel, Calif., is helping to drive the western expansion of Total Door. As the company's representative for Southern California, Arizona and southern Nevada, Gary has been a key force in identifying and signing on well-respected distributors in a vital part of the country.
"Projects are booming on the west coast," Gary says, adding that he's excited to bring Total Door Systems into more of them.
Gary has been in the door and hardware industry for 36 years and added Total Door to his product list two years ago. He said the addition of Total Door products allows him to compete with some of the largest firms on the west coast for every project.
His process of working with distributors is to emphasize direct contact with distributors to foster relationships and a deeper understanding of their specific needs. Gary works with a complete customer-centric approach, which means ensuring that distributors have the right training and support to understand new products, how they relate to their specific markets, and the full spectrum of support options available to them through Total Door.
As part of Total Door's inaugural Advisory Council, Gary is interested in candid feedback from distributors on the tools and support that would help them work more successfully with Total Door Systems.
"Communication is a two-way street at Total Door," Gary says, "It's an important value that we share."