In order to continue making the DoorBuilder tool the fastest, easiest way to configure Total Door Systems and deliver a quote, we will share tips from time to time to make it easier, more effective and more efficient.
In previous newsletters we've shared how to add or subtract the columns you want to review on your quotes page, how to use the search function to find a keyword or distributor and how to find a quote. In this month's newsletter, we share a tip on how to use quote forecasting and probability of sale within DoorBuilder.
First you need to add the Probability of Sale and Forecast Date columns to your quotes page. To do this, log into DoorBuilder and click on the Quotes tab.

You will see a box with three dots along the top, next to the Search button. Click on that box to open the available columns.

Once that is open, search the list for the Probability of Sale and Forecast Date options. Click on the box next to them to select and then hit Apply.

You will now see these columns on the far right. These can be updated by clicking on either one (they both open up the same window). When changing the Anticipated Close Date, you need to click at the very top of the box. This is not standard procedure, but it is a workaround due to a bug in the system at the moment.
Once you have made your updates, simply click on Submit. That is all there is to it.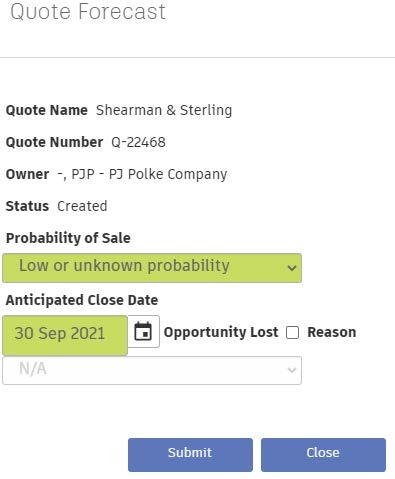 Thank you to Brian Butler for finding and sharing this tip. If you have a DoorBuilder tip you'd like to share, please send it to Candace Kitchen (candace@totaldoor.com).